Century-Old Metal Plating Company
Becomes Member of Women's Business Enterprise Council
Nobert Plating Co. of Chicago was founded in 1903 by Oscar G. Smith, originally specializing in the refurbishment of fine silver and gold trays, teapots and antiques for Chicago's majestic hotels, railroads and the homes of the Gold Coast elite.
Nobert's evolution into the industrial sector mirrored the technological advancements of the twentieth century, beginning with the silver plating of electrical power components for Boulder Dam and Argonne National Laboratory.
Today the company, which specializes in copper, silver, nickel, tin, tin-lead, plating on aluminum, and electroless nickel metal plating, is headed by Diann Sickles, a granddaughter of the founder. Nobert also sells aluminum or copper bus bar, and they have the capacity to silver or tin plate up to 12 foot lengths. The company is currently certified under the Aerospace Registrar Program for AS9100-B and ISO 9001:2008 certified.
Nobert's largest clients include many of the world's leading manufacturers of electrical switches, automotive components, communications equipment and electrical power components.
Sickles serves as president and CEO of Nobert Plating and oversees the company's domestic and overseas business in metal plating and bus bar. The company's top officers include her son Robert Sickles and her daughter Jamie Sickles.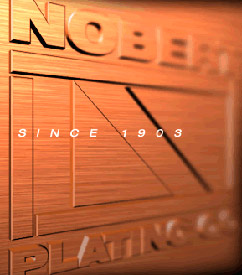 Nobert Plating Co.
340 North Ashland Avenue • Chicago, IL 60607
Phone: (800) EST-1903 or (312) 421-4040